Carbonless NCR Sets & Pads (Business Stationery)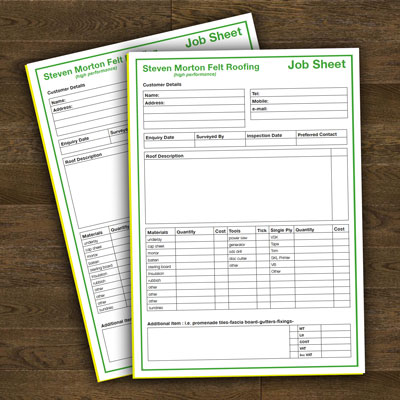 NCR Pads & Sets stands for No Carbon Required. Carbonless NCR sets & pads are used in business situations where more than one copy is required on the spot. If you need to issue a receipt, invoice, work or purchase order, etc., but don't have the means to print one out, an NCR receipt booklet allows you to fill out one form, give the customer a copy and keep a copy for your records. If a third copy of records is required, NCR sets with three copies are available.
Carbonless NCR Sets
Purchase Orders

Invoicing

Quotation Forms

Receipts

Statements

Work Orders

Applications
Personalised NCR Forms
Personalised NCR forms created with high end printing are perfect for businesses that need NCR sets on job sites and want to project a professional image. Use our online ordering to easily customize your NCR forms.
Prices start at £29 for 100 copies

Create personalised NCR forms online

Design carbonless NCR sets for different purposes

Preview designs online for final approval

Online order and payment system

Doorstep deliver of order through fast checkout

Glued as a pad or as a sets
There are 3 ways of ordering your next set of affordable printed products using GD Prints online ordering system:
Browse Design - Pick a pre-made design template from the 100's we have then enter your own details and images to make it your own.
Upload your Design - Upload the artwork file you have. If you choose this option then please see our design help section on how to design for print as this will help the printing process run smoothly and can improve on the quality of your finished print product.
Custom Design - Choose this option if you want to be a little more creative, you will start with a blank canvas ready for you to upload and insert your own images and company details to suit, time to let your imagination run wild.